PMM: Dr. Geppert, on Jan. 1, 2024, the value-added tax in the food service industry is to be raised again from 7 to 19 percent. What reactions have you received from your member businesses?
There is a great deal of uncertainty and concern. It is always claimed that the lowered VAT is an instrument introduced during the Corona crisis, but it is a demand that has existed for decades, an immensely important, structural measure to secure the diversity of small, family-run gastro businesses in the long term. We may have the pandemic behind us, but we are still feeling the effects: Energy prices are skyrocketing, the cost of food is enormous, and personnel costs are rising. Added to this is the reluctance of guests to consume; here the appetizer is skipped, there the dessert is shared. All this leads to the fact that the conversion decreases. Where sales are still the same, profits have plummeted. Turnover does not equal profit - just because the pub is full does not mean the landlord is earning well. Restaurants have to employ six times more staff to achieve the same turnover as retailers. And just for reference: 40 percent of restaurants in Bavaria have annual sales of less than 100,000 euros.
PMM: Is a wave of bankruptcies now looming?
Definitely. The tax increase is so massive that it is becoming an existential threat. We launched a survey of our members and 7.2 percent of businesses would have to close - that's 2,400 businesses. And those that don't have to close will have to lay off staff. To me, it's a milquetoast calculation to say up with the tax. A lack of revenue in the catering industry, insolvencies and unemployment cost the state much more.
PMM: Could restaurateurs absorb the sales tax increase via lower-cost food?
No. The 12 percent would have to be passed on entirely to the guests. After all, the cost of goods is only a small percentage of the final selling price. Energy, personnel, rent, lease, investments in the future - all these factors also play a role. We want to make gastronomy possible for all guests, but the price sensitivity of the guests is there. That's why most of our businesses do a mixed calculation anyway, where at least one dish is cheaper.
PMM: Olaf Scholz had held out the prospect of VAT remaining at 7 percent in 2021. An empty promise?
That's right, Olaf Scholz has promised this several times - there are also videos of this. Now reference is being made to the budget discussions that will begin after the summer. We expect our Chancellor to keep his word. The Federal Minister of Finance has also confirmed to us in writing that he is in favor of deferring the low VAT. But he says that other coalition partners see it differently. The Greens were against it, but now point out that it is not their responsibility. Either way, a quick decision is needed: currently, events are being planned for 2024. How are you going to calculate if you don't know whether it's 7 or 19 percent?
PMM: Gastronomes are one side, producers and suppliers like Paul M. Müller the other...
Absolutely. What you have to understand is that we are a necessary, structural guardrail and keep the regional value chain together. We are the engine of the regional economy, where other industries have already retreated. Gastronomy, producers, suppliers, craftsmen - it's a cycle that must not be destroyed.
PMM: The fact that fewer guests are coming is one scenario. Does that also mean a loss of quality of life?
In any case, the most beautiful bike path is nothing if there is no inn along the way where you can stop for a bite to eat. Such meeting places are important for society. Gastronomy means quality of life, as we saw during the pandemic when businesses were closed. And not only that: we are systemically important, 447,000 people are employed in the catering industry. That's more than Audi and BMW combined worldwide. One in every 17 people employed in Bavaria is in the hospitality industry, which is a strong piece of Bavarian economic power. We have to think about this: Do we want system gastronomy concentrated in hotspots, as in America, or do we want cities and rural regions to be diverse with individual inns.
PMM: Is there a positive aspect to be drawn from the tax being raised?
If there is one positive aspect, it's that you can see how important an industry association like DEHOGA is. Small and medium-sized businesses are incredibly powerful, but if there are only a lot of small units, it doesn't make much sense. We have to act as a whole, the many voices have to be bundled centrally. We as an association are this interface and can only call for as many as possible to join in. Together, we can achieve a lot.
PMM: How do you help your members?
We are always loud and these days especially. Basically, we offer a wide range of activities: The optimization of the company, securing skilled workers, training. We help with legal issues and provide support for all kinds of worries and needs. Once a week we provide an update - the world has become very fast-moving with its legal changes and innovations. We are virtually the all-round carefree package.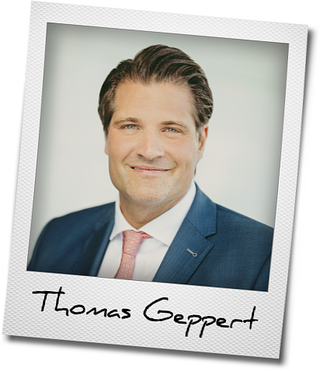 Personal details:
Dr. Thomas Geppert has been State Managing Director of the Bavarian Hotel and Restaurant Association DEHOGA Bavaria since August 1, 2016. He is regarded as a proven expert on small and medium-sized businesses. Born in Marktredwitz in 1981, Geppert studied political science at Otto Friedrich University in Bamberg after graduating from high school, majoring in finance, international and European politics, and political systems. "What appeals to me most about the hospitality industry and DEHOGA Bayern is its enormous economic importance, but also its diversity," says Dr. Thomas Geppert.