PMM: Mr. Erb, Miesbacher Gastroservice is celebrating its 50th anniversary these days. Congratulations! What was the greatest success?
To prevail as a medium-sized company against the big competitors and to keep on prevailing. Looking back, this was not only the greatest success but also the greatest challenge.
Were there other challenges as well?
If you take a look at the past few years, there have certainly been crises. Most recently, there was the Corona crisis, but also the economic crisis of 2008/2009. But crises also make you strong, and we're seeing that very clearly at the moment. We're doing very well, we are incredibly growing and holding our own very strongly against our biggest competitor.
How do you manage that?
Service, service, service. Closer to the customer - that's our motto, which we live by every day. And: Closer to the customer - it really doesn't get any better than that. We are there for our customers right up to the last minute, making everything possible and offering customers the best possible service. At the end of the day, as a company we don't just sell the product, we sell the restaurant service - that's our strength.
Service as a wish of the management is one thing - how do you transport this idea to your team?
I spend 60, 70 percent of my day at work. As a boss, you have to talk to your employees a lot, motivate them, say good things to them, even if things aren't going so well - after all, everyone has a bad day. The biggest lever that makes employees want to advance the company with you is motivation and fun at work. If you are good to your employees, you will get that back double and triple.
Miesbacher Gastroservice and Paul M. Müller have enjoyed a close partnership for many years. What makes this partnership particularly strong?
A partnership is strong when you stick together, in good times and bad. You stay true to yourself, you're loyal, you turn a blind eye sometimes, and you don't go straight to the next dealer just because he's 5 cents cheaper. It is important to be able to rely on each other. In addition, honesty is a must - it's important to tell each other when something isn't great and isn't going well. It's just as important to be able to quickly put any disagreements behind you.
How can strong partners - like Miesbacher Gastroservice and Paul M. Müller are - grow together?
You grow from the positive moments - and from the negative ones. The Corona crisis was the best proof of this.
What common values do partners need to cultivate?
Quality, reliability, loyalty. For me, this is the most important. It is almost above the price. Those values are an absolute MUST.
If you were to look into a crystal ball: Where is Miesbacher Gastroservice headed?
I think and believe and know how much potential there is in Miesbach Gastroservice. If we work the way we are currently, we will grow extremely strongly. But we also have to manage to recruit reasonable staff. This is a problem that we are currently facing - like all other companies.
What is the biggest challenge facing the industry in the future?
To survive. To make companies modern - just as you do at Paul M. Müller. And: recruiting and retaining good staff - as mentioned earlier. We can have the best goods on the market, but if we don't manage to get them out with the team, then it's all for nothing.
Keyword: Good personnel. What is the reason for the lack of them?
We are still in crisis mode in the economy. We should actually be working more than we are at the moment. And what are we doing? The opposite! It won't work like that. The generation that is currently coming after us has grown up in the prosperity that our parents and grandparents built up. This is also because they slaved for 13 to 14 hours and worked on Saturdays and Sundays. There will have to be a middle ground between then and now.
What are Miesbacher's next major milestones in the coming years?
We want and need to expand - by 5,000 square meters. As early as 2016/2017, the first request went to the town hall - without success. Although there was movement on the matter again in the middle of last year, the topic fell asleep again. Since 30,000 square meters are available for construction in the water conservation area adjacent to our company premises, we are currently exerting massive pressure here. We need the space and the expansion area so that the company can continue to grow. We are otherwise at the end of our capacity.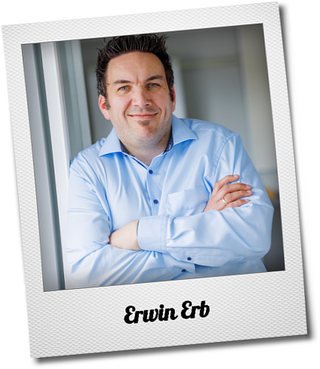 Personal details:
Erwin Erb has been Managing Director of Miesbacher Gastroservice since October 2021. He started his career at Frischeparadies Niederreuther (2003 - 2010). With his move to Becker Gourmet GmbH, he took care of sales and held the position of managing director from 2013.